Official distributor in France, we deliver all the waterproof shockproof cases of the following brands :
This protective cases type peli will not only provide you with optimal protection, but it will also ensure that your products are dust, water and sand proof. Often accompanied by IP67 certification, drop standards, these cases are designed for high altitude flight.
They come with an automatic depressurization valve. It will allow you to manage pressure drops, which will let you open your case without any problem..
Often used for the protection of cameras, video cameras, sensitive products, drones but also mini mixer. This case will give you full satisfaction both for its finish and its use.
They are made of high quality injected plastic (polypropylene), which makes it almost indestructible.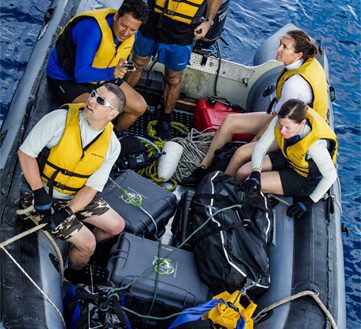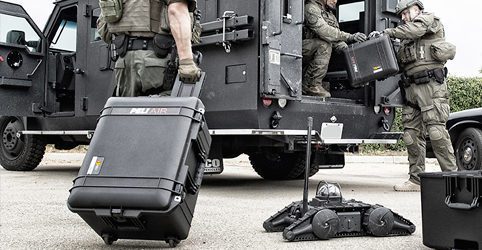 The protective cases type peli are designed to keep your products safe from violent shocks, extreme cold and heat, water, sand, dust resistant, airtight and resistant to chemicals.
Often used by the military for their robustness and meet the standards of the most stringent military tests MIL C-4150J, STANAG 4280, Def Stan 81-41 et ATA.
We distribute all these brands to give our customers a wide choice of sizes.
Additional options for protective cases :
For each of these cases, there are several possible arrangements. We are going to present you what it is possible to do for each of them. To protect your sensitive products from vibrations and shocks, you can choose an interior with pre-cut foam or foam machined to the dimensions of your products.
Pre-cut foam for protective cases:
If you want to wedge your sensitive objects, opt for a pre-cut foam.
You can then create your spaces by removing the small foam cubes to create the appropriate housing.
Depending on the thickness of the case, there will be several layers of foam. This will give you the choice to choose several depths adapted to your different products.
For a more professional use, we can machine foams to the dimensions of your products.
Custom machined foams
Here is an example of custom foam. We use a numerically controlled machine to cut our foam to the millimeter.
Machined foams are much denser than the products sold with protective cases. You can choose from several types of foam: composition, color, density.
Visit our custom foam page for more information.
Removable padded dividers
Often used in the field of photography to store and protect: the lenses, the camera and their accessories.
The dividers are foam padded. Made of nylon, these divider kits are very versatile.
Thanks to their powerful velcro, you can arrange your divider at your convenience.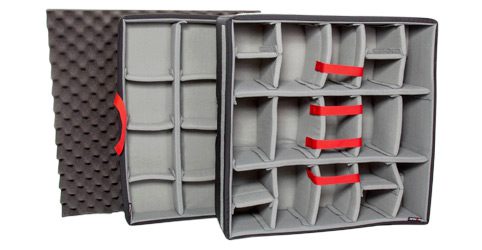 Trekpak Peli separation system
Based on the same principle as the padded foam divider kit, this is a custom divider system. Made of waterproof closed cell foam that is laminated into a rigid corrugated plastic panel. Lightweight, strong and almost impossible to tear, these panels will keep your sensitive items safe for a very long time.
The TrekPak system uses pre-installed wall sections, divider panels, locking pins and a foolproof cutting tool. Simply place your equipment in the enclouure, measure and cut the divider sections and hold them in place with the steel U-pins. We include additionnel diviser material so you can change your mind, as well as partitions also available individually so you can reconfigure you dividers at any time.
Other accessories for protective cases
You can find our entire range of cases by clicking on this link: Protective cases on our online sales site conex-online.com
A search refiner will allow you to choose your suitcase by interior size. Choose either the length, width, height or several parameters to find the ideal suitcase for your needs.
You can also request a free quote for quantities or ask us questions about their availability.